The TrackMan Experience
Golf practice and player development are going through a period of tremendous change, and technology is a central component in that transformation. The mapping of swing DNA is now possible, as is the quantification and comparison of swing feel vs. real. Technology also empowers us to monitor granular swing changes over time.
With TrackMan, you have all those tools to jump ahead. From our ground-breaking club and ball tracking golf radar systems to the best performance enhancing software available in the industry today.
Contact the Pro shop for More information and the TrackMan experience.
Trackman can be added to your coaching experience at DG please call 01635 551975 or click below to book your experience.

TrackMan Services
What does TrackMan measure?
TrackMan measures both clubhead and golf ball data to give the most accurate shot analysis. This provides factual information to make measurable improvements in your game.
TrackMan is a brilliant tool to use in any coaching session irrespective of what level you currently play at. Basing decisions on factual information helps to identify any problem areas faster and helps us to get to the solution quicker.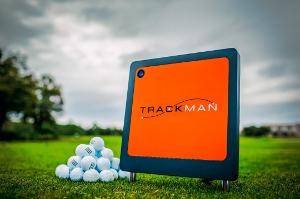 TrackMan Lessons
In a TrackMan lesson, we will use TrackMan and video analysis to build a clear picture of your game, uncovering any problem areas and developing strategies to improve.
At the end of your session, you will receive a detailed report containing all the data and video analysis from the session and the way forward to help improve your game faster.
TrackMan Gapping Session
One of the most important questions you need to be able to answer in golf is "how far do you hit your clubs?" In order to know which club to hit in a certain situation, you need to know your exact carry distances.
A TrackMan Gapping Session gives you the relevant information to help you make the correct decisions on the golf course saving you shots. During this session, you will hit a series of shots with every club in your bag to get accurate measurements for each club. A detailed report will be given to you after the session.
TrackMan Combine Test
TrackMan Combine is a standardised test that enables you to identify the strengths and weaknesses in your golf game. Discover the clear correlation between your TrackMan Combine results and your success on the golf course.
The TrackMan Combine consists of 60 shots hit to selected distances. TrackMan scores each shot on a scale of 0 - 100 based on your accuracy. When the session is complete, every golfer receives a full appraisal and follow-on action plan.
For more information on any of the TrackMan services or to book your TrackMan session, please visit the Professional Shop or call 01635551975.